Legally Enforceable Digital Contract
Digital contracts are equally legal and enforceable as conventional contracts.
Personalized Whitelabled Mobile App
Additionally, you will receive a white-labeled mobile app that is tailored to your needs.
Real-time Cargo Monitoring
The solution keeps track of your cargo in real-time as it travels.
Personalized Dashboard
We adapt the current dashboard to user requirements with each new deployment.
What is Smart Contract Solution?
The i-telemetry solution represents a contemporary approach to safeguarding goods' titles. It harnesses the capabilities of IoT and blockchain technology to eradicate the potential for contract manipulation or alteration. Smart sensors installed within the goods containers function as intelligent agents, continuously overseeing parameters such as real-time temperature, relative humidity, location, and various other criteria in alignment with the smart contract. In the event of any breach of the contract, all relevant parties receive instant notifications.
Applications of Smart Contract Solution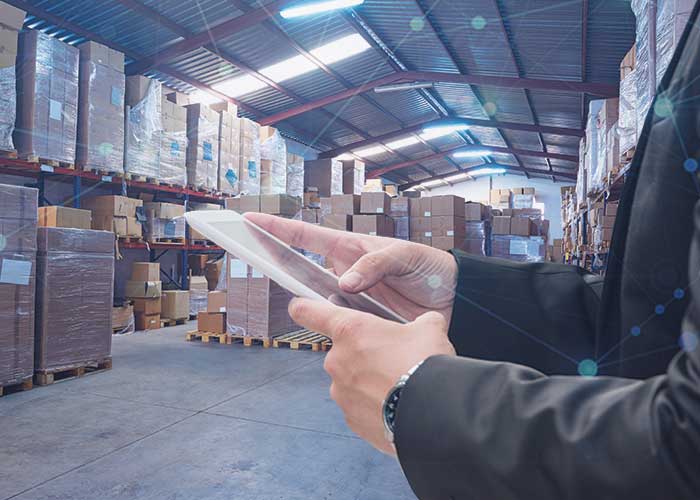 Supply Chain Management
From raw materials to the final product, the supply chain encompasses the journey of goods throughout their entire lifecycle. I-telemetry technology records the ownership of these goods as they traverse the supply chain, establishing accountability for them at every point in time. The Internet of Things (IoT) has played a pivotal role in bringing these smart contracts to life by overseeing the progress of items as they move from producers to warehouses, manufacturers, and suppliers. This enables the confirmation of the status and authenticity of products at each crucial juncture of the distribution process, ensuring their integrity until they ultimately reach the end-user.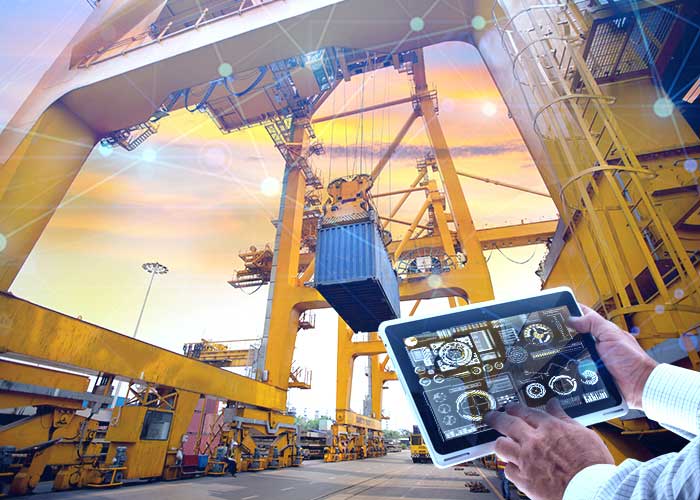 International Trade
When it comes to cross-border goods and services exchange, companies encounter significant challenges. International trade requires the involvement of at least three banks, including the receiver's bank, sender's bank, and the correspondent bank. If an issue arises at any of these banks, it can result in delayed or rejected payments. However, with an i-telemetry blockchain-based smart contract, payments are automatically disbursed following a secure and transparent confirmation of the contract's execution.
Electronic Bill of Lading Advantages
The i-telemetry IoT smart contract solution represents a groundbreaking advancement in addressing the limitations of conventional trading practices. By integrating End-to-End IoT connectivity with blockchain technology, it offers real-time monitoring of cargo status and aligns it with the parameters outlined in the smart contract. This innovative solution guarantees the equitable execution of intelligent trade contracts, including the electronic Bill of Lading.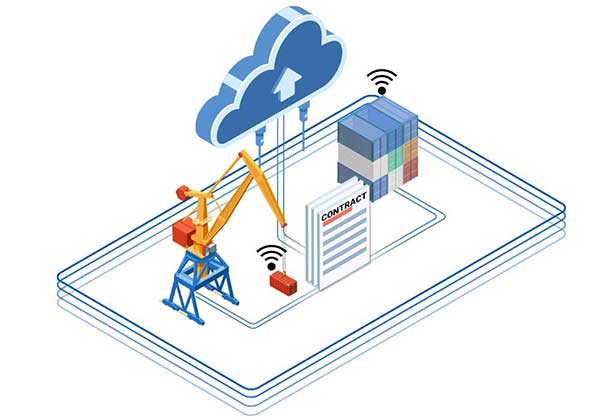 Ensure Full Compliance of BoL Terms
Improve Visibility into Your Supply Chain
Digitize Your Shipping Contracts
Reduce Operational Overheads
Eliminate Manual Processing
Realize Rapid Insurance Claims
Problem with Current System
I-telemetry contracts are bearer documents of title, and due to their possession-based ownership, the holder of the contract is presumed to have primary ownership of the goods. The tangible nature of i-telemetry contracts can result in distribution delays. Traditional shipping contracts can be susceptible to manipulation to conceal responsibility for cargo damage or other problems.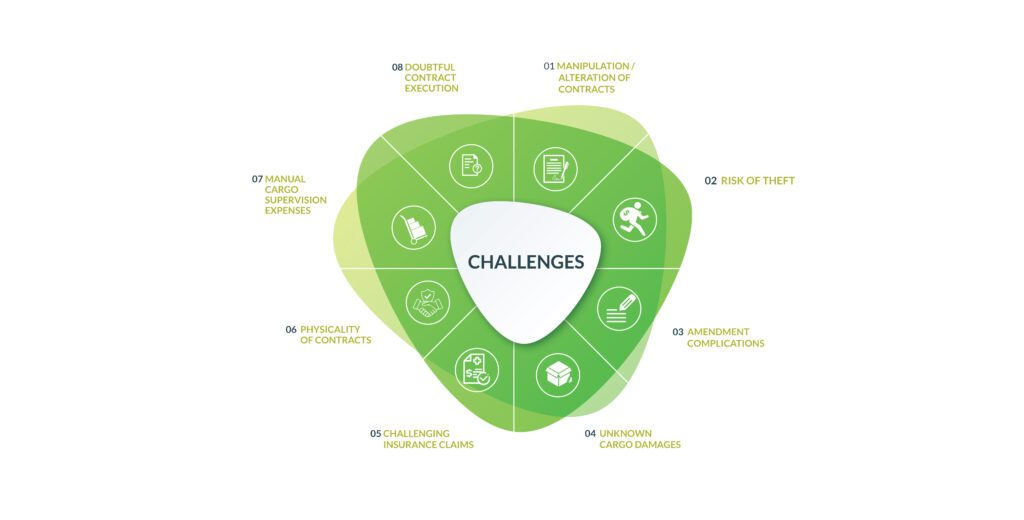 Smart Bill of Lading Work Flow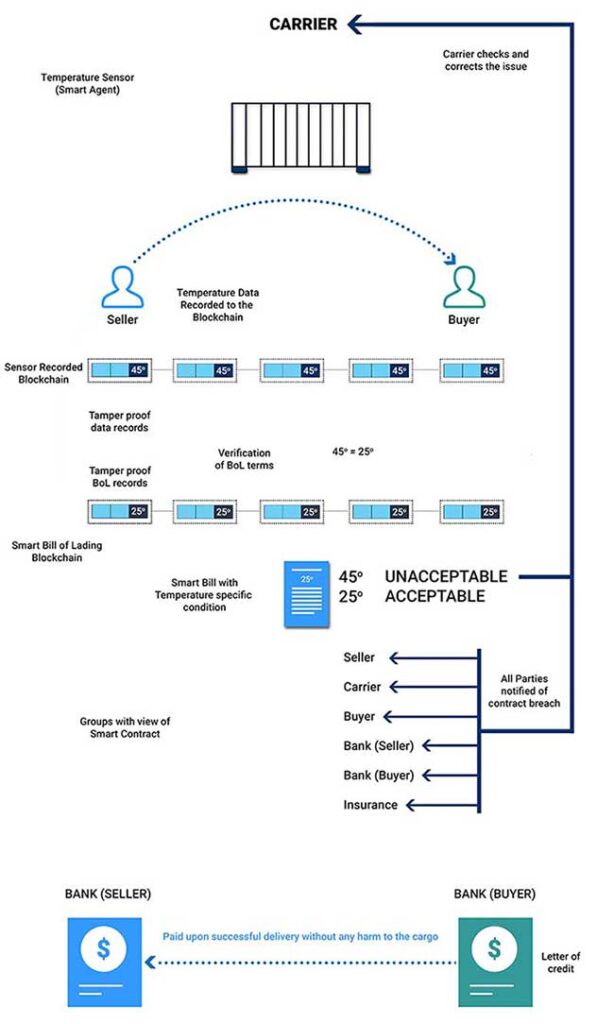 i-telemetry Smart Contracts Product Features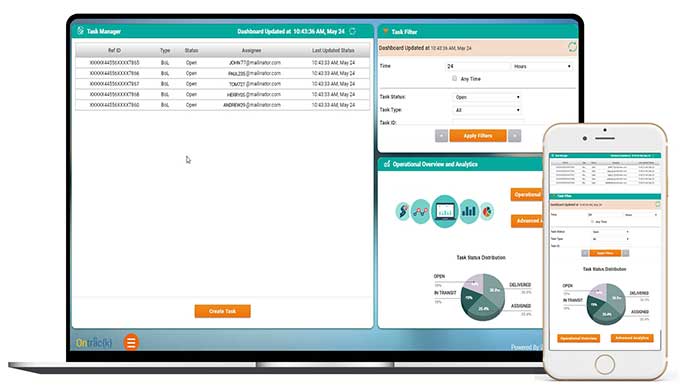 Remote Container Management
The i-telemetry feature transforms containers into digitally connected devices with the capability to relay information about their power status, whereabouts, humidity, temperature, and air supply.
Real-time Temperature & Humidity Data
Regardless of the location of your containers, you can safeguard your cargo from spoilage by monitoring the real-time temperature and humidity within your containers using i-telemetry.
Both Satellite and Cellular Connectivity
Whether it's sea routes, ports, or land, i-telemetry's IoT solution can monitor your cargo in transit. Based on the accessible connectivity choices, we select the ideal connectivity option to guarantee smooth communication between devices and users.
Centralized Dashboard
The i-Telemetry IoT solution provides users with a centralized dashboard that offers comprehensive visualization of all relevant information. Users have the convenience of creating new Smart Contracts directly through the web or mobile app. Additionally, carriers are empowered to include annotations in the event of any issues arising during transportation.
Multiple User Login
Different users will have separate login credentials, and the data provided to each user will be tailored to their specific needs. The administrator has the flexibility to determine which information is allocated to each user within the i-telemetry system.
Contract Digitization & Automation
Say goodbye to traditional paper documentation and costly courier charges. With smart contracts powered by i-Telemetry IoT, you can effortlessly generate contracts like electronic bills of lading (BoL) right within the web or mobile app.
Real-time Notifications
In the event of a breach of contract, such as unacceptable temperature or humidity levels inside the containers, i-telemetry promptly notifies all relevant parties of the breach.
Contract Breach Alerts
All relevant stakeholders can promptly receive notification of the contract breach. The seller can request i-telemetry to investigate the cause of the contract breach, which may include issues such as cargo spoilage or delivery delays.
Geofencing
With the geofence feature in i-telemetry, the purchaser can receive notifications when the cargo arrives at the delivery address or port. The administrator can define geofenced areas on the map during the contract creation process.
Cargo Location Tracking
Users will have the capability to access real-time cargo geolocation through i-telemetry. As previously mentioned, the admin will have full access to all contract-related information.