Environmental Monitoring Solution
Personalized Mobile App
Supports iOS and Android for individualized experiences and connections
Real-time Alerts
Receive real-time, fast alerts that make it simpler to make quick decisions.
Quick Time to Market
Within 5-10 business days, the first iteration will be prepared for implementation.
A One-stop Platform
Stuffed to the gills with cutting-edge sensors, gateways, networks, and software capacities.
What Defines an Environmental Monitoring Solution?
An IoT-powered environmental monitoring solution by i-telemetry serves as a valuable tool for evaluating the safety of your surroundings. Whether you're in closed spaces such as offices, homes, warehouses, or museums, this innovative solution is designed to alleviate your workload, swiftly detect the presence of pollutants, and provide real-time insights about your environment—all while prioritizing safety and health.
The primary objective of this solution is to enhance your well-being and work efficiency, thereby boosting overall productivity. With i-telemetry's smart environmental monitoring system, you can enjoy the advantage of maintaining comprehensive records of your surroundings, creating a personalized and tailored experience for your needs.
Applications of Environmental Monitoring Solution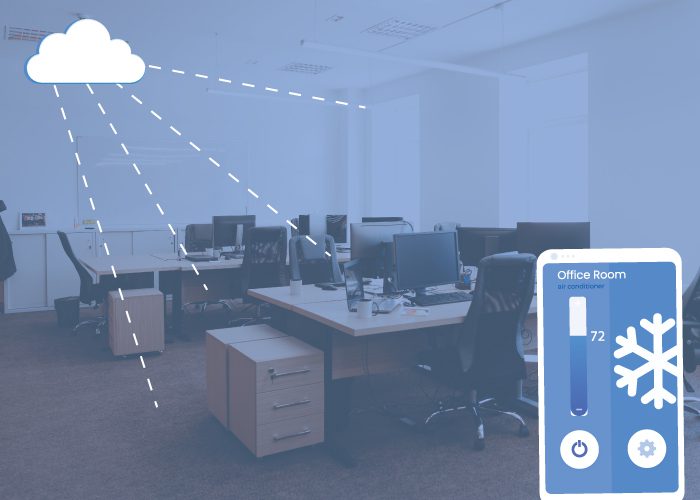 Temperature Monitoring
With this solution, you can accurately monitor temperature and humidity data in a specific space. The data is presented in an informative manner on the i-Telemetry IoT dashboard for analysis and report generation. i-Telemetry's Environmental Monitoring Solution is equipped with wireless sensors that enable you to track temperature and relative humidity levels in various environments such as offices, rooms, museums, and laboratories. This solution also allows you to configure customized temperature and humidity thresholds. The sensors come with automation capabilities to manage HVAC systems and create a personalized environment based on your comfort preferences.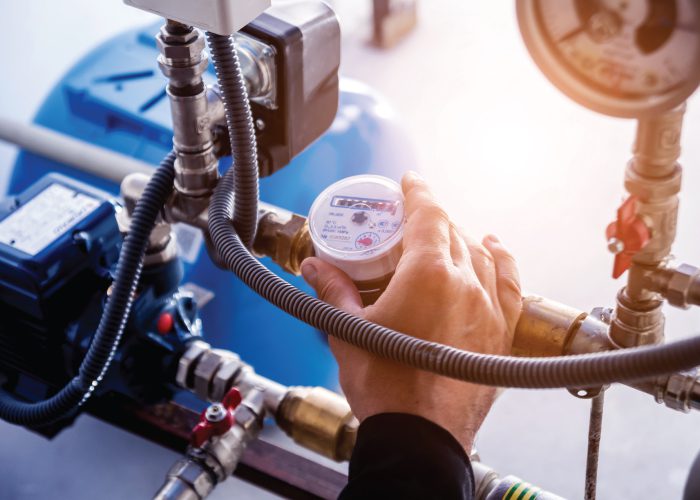 Gas Detection
Staying protected from potential toxic gas leaks in confined spaces is absolutely essential. i-Telemetry offers a cutting-edge environmental monitoring solution that is tailored for various applications, including the detection of gas leaks. Detecting the presence of gases in the air enables prompt decision-making to ensure your safety. The solution is equipped with state-of-the-art sensor devices and LoRaWAN gateway connectivity for the detection and secure storage of gas leak data, facilitating more comprehensive analysis. This system not only enhances your safety but also empowers you to take immediate action to prevent any hazardous incidents from occurring.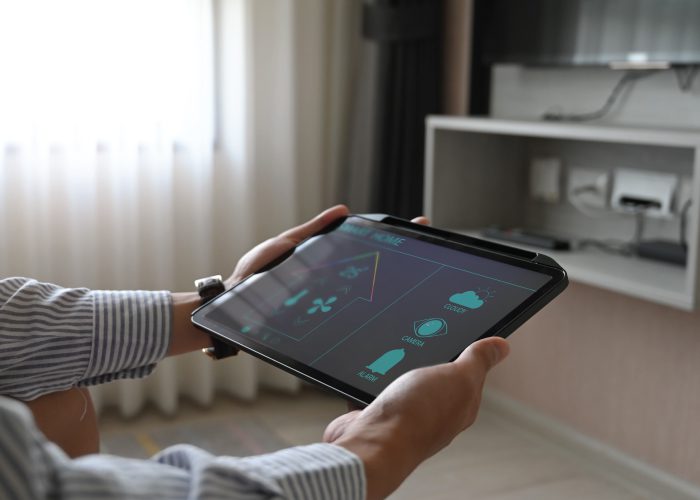 Air Quality Measurement
The existence of particulate matter in the air can have an immediate impact on one's well-being. Hence, an environmental monitoring system equipped with sensors is employed by i-telemetry to pinpoint and mitigate the presence of pollutants in our surroundings. This advanced system offers precise detection of airborne particulate matter and issues alerts regarding its concentration. Whether it's in workplaces, residences, or any enclosed area, i-telemetry's solution proves highly dependable. It creates optimal working and living conditions, ensuring that the air around us remains fresh and conducive to healthy breathing. This fully automated solution is also customizable to meet specific requirements for enhancing the environment.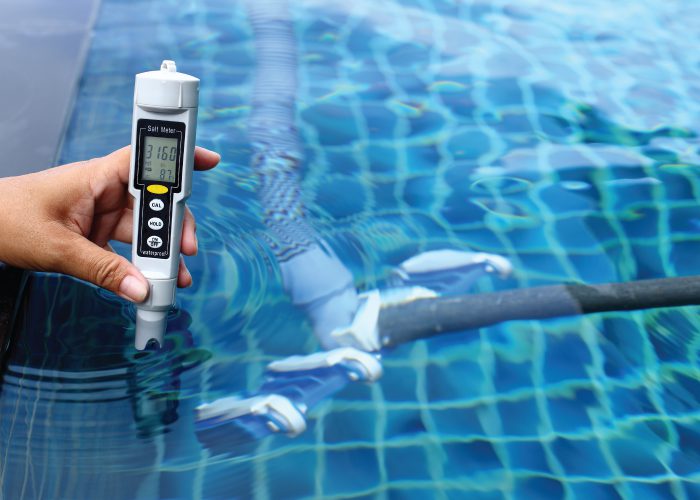 Water Quality Monitoring
Clean and fresh drinking water is a vital resource for survival, and IoT technology is effectively employed by i-telemetry to measure water quality parameters. Through their environmental monitoring solution, it becomes feasible to assess water quality in real-time, leading to more streamlined operations and an enhanced production rate. With i-telemetry's technology, you can accurately detect parameters such as turbidity, pH levels, temperature, dissolved oxygen, total dissolved solids (TDS), and salinity, all contributing to improved water quality for various purposes. This innovative solution facilitates the acquisition of real-time water quality data through smart IoT techniques, enabling advanced analytics to further optimize production rates.
i-telemetry's Environmental Monitoring Solution
With i-telemetry's advanced environmental monitoring solution, you can seamlessly collect real-time data using sensors. These sensor devices transmit valuable information through secure communication gateways, hosted on a cloud platform, and are conveniently accessible from anywhere at any time. This intelligent solution seamlessly supports multiple gateways that are seamlessly connected to the i-telemetry dashboard on your smart device. i-telemetry's sensor devices are expertly designed to gather data related to the environment, air quality, and room lighting, enabling the creation of an ideal atmosphere tailored to businesses' needs. Consequently, our system can also serve as a purposeful ambiance monitoring solution, offering businesses personalized options for their environments.
Targeted Industries where IoT powered Environmental Monitoring is a Success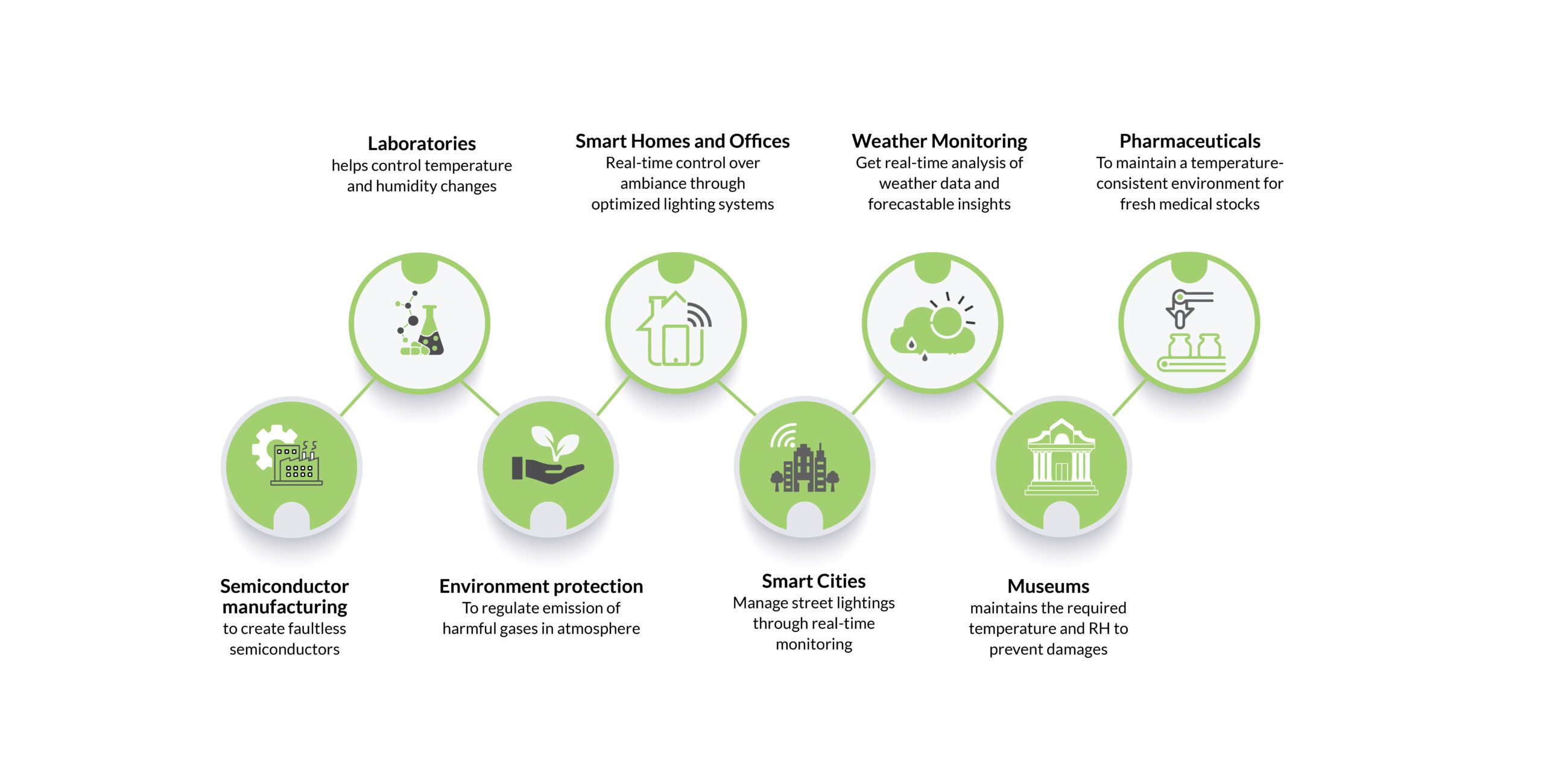 Benefits of Installing an Environmental Monitoring System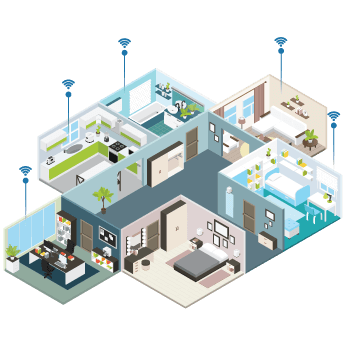 Total Volatile Organic Compound measurement
Optimize the lighting systems
Features of i-Telemetry's Environmental Monitoring Solution
End-to-end Service
I-Telemetry offers a holistic and all-inclusive IoT solution that covers every aspect of end-to-end device management, connectivity support, and security. Our comprehensive package includes both hardware and software components, delivering a seamless one-stop-shop experience for environmental monitoring.
Historical Data Management
The data collected from assets related to air and water quality, as well as gas concentration, can be subjected to advanced analytics through i-telemetry. This data processing generates actionable insights, facilitating effective decision-making to enhance industrial operability.
Quality Hardware- to withstand harsh weather conditions
The i-telemetry system incorporates state-of-the-art sensors and meters designed to accurately measure particulate matter, temperature, and water quality from a remote location. These devices exhibit exceptional longevity and are capable of transmitting data to gateways within a range of 1200 ft., rendering them well-suited for installations in remote areas.
Centralized Dashboard
The i-telemetry platform serves as a centralized hub for overseeing and overseeing all data exchanged via sensor-gateway setups. It provides a comprehensive solution with user-friendly dashboards to expedite data visualization and facilitate in-depth analysis.
Configurable and Flexible
I-telemetry offers a modular IoT architecture that provides unparalleled flexibility, scalability, and security. Our customizable solution is capable of tracking individual gases and water contaminants, ensuring the highest level of precision. It comes pre-configured for your convenience, but can also be easily tailored to meet your specific requirements if necessary.
Advanced analytics
I-telemetry enables you to harness predictive outcomes by providing timely readings of various air quality metrics. The stored environmental data is meticulously analyzed using advanced algorithms to achieve maximum accuracy.
Gradual Capability Build-up
This solution meets all your requirements with its cutting-edge capabilities and comprehensive services. It effectively aligns with your business strategies for detecting air pollutants and generating actionable insights to address environmental contamination.
Environment Sustainability
Enhanced with i-telemetry's intelligent data analysis capabilities, the tabulated data can undergo processing to generate charts and graphs. This visual representation streamlines and expedites the examination of raw data, facilitates the rapid identification of information and insights, facilitates trend and pattern recognition, and enhances decision-making processes.
Custom-branded
The i-telemetry solution is custom-branded, enabling seamless configuration with any device, server, or communication protocol. This feature ensures effortless installation without compromising performance.